Hydraulic Power Packs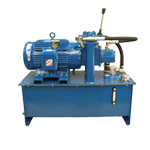 Mothers Technology, specialists in design and manufacturers of hydraulic power packs for industrial applications around the Bangalore India. Our hydraulic power Packs are designed and manufactured in-house using the latest technology, this enables us to be competitive in the market.
Mothers Technology custom builds hydraulic power packs for user specifications, we manufacture Power packs for special applications in pharmaceutical and food processing industry, process industry, construction industry, steel mills, etc..